In today's cut-throat digital arena, where every one of your competitors is fighting for attention, it can be easy to forget that one of the SEO basics – blogging – is still more relevant than ever, and crucial in your strategy of overtaking your competitors to rise to the top of the search engines. When done right, blogging can be your knight in shining armour, battling in the search engine warzone to attract more high-quality website visitors to your site, and therefore, more leads and customers for your business.
So, sharpen your (content strategy) weapons, don your armour, and prepare to discover 5 undeniable benefits of blogging for your business.
Why SEO Means Nothing Without Blogging
As a busy business owner or marketing manager, your time is a precious commodity, dedicated to the growth and management of your business. From lead generation to nurturing strategies, digital campaign optimisation, and social media management, your to-do list seems endless. In the midst of it all, blogging may appear insignificant, but let me tell you, it's far from that!
Brace yourself, because blogging is the turbocharger that propels your website to the pinnacle of search engine result pages (SERPs) like Google. And the best part? It doesn't have to be a daunting, time-consuming task when you have the right team or agency by your side. Get ready to witness the power of blogging unfold!
The Relationship Between SEO and Blogging
In the vast realm of SEO, blogging holds a prominent position. By incorporating blogging into your online strategy and pairing this with on-page SEO techniques, you are greatly enhancing your website's overall SEO effectiveness, helping to establish your site as a valuable resource for addressing your target market's enquiries – both to your potential customers, AND to search engines like Google.
Regularly publishing engaging, informative SEO-optimised articles on your site allows you to expand your website's visibility, improve your search engine rankings (getting you closer to that #1 spot!), and attract high volumes of "free" organic traffic that can give you a fantastic long-term return on investment! Now, let's dive deeper into these extraordinary benefits, so you can truly grasp the game-changing impact of 'just a few words' on your business.
SEO Benefit #1 – Amplifies Organic Visibility & Traffic
Keyword research forms the foundation of any SEO endeavour. It involves identifying the best keywords that align with your target market's search queries, enabling you to optimise your website accordingly. Through thorough analysis of search intent, volume, and competition, you can determine the most valuable keywords to focus on, such as "small business accountants," "accountants Perth," and "accounting firms Subiaco." These keywords are then strategically incorporated into your main website pages, like the home page, services page, product page, and about page, to enhance their visibility and relevance.
However, the power of blogging lies in its ability to expand your keyword opportunities further. By dedicating individual blog posts to long-tail keywords, which are longer and more specific keyword phrases, you can optimise more pages on your website. Although long-tail keywords may have lower search volumes compared to broader ones, they play a vital role in your overall SEO strategy.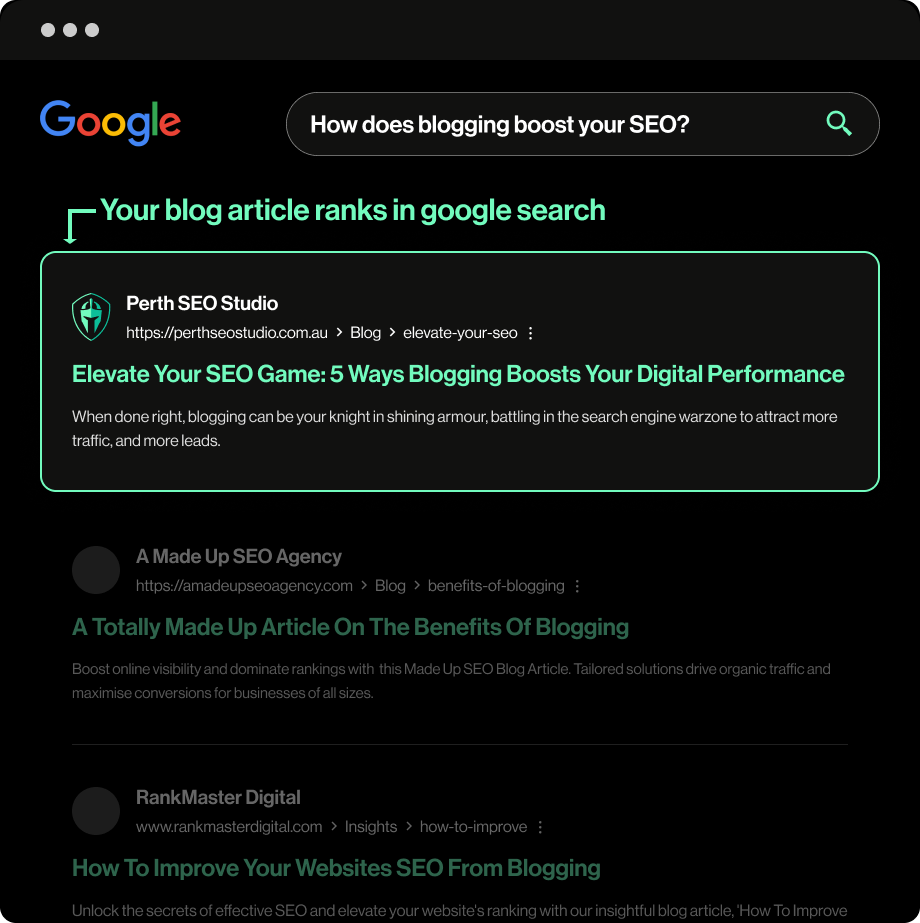 When crafting blog content, strategically integrate these long-tail keywords into your titles, headings, body text, meta tags, URLs, and page links. This comprehensive approach increases your chances of achieving higher rankings in SERPs. With an expanded keyword coverage, your blog becomes a magnet for a broader audience, driving targeted traffic to your website.
PRO TIP: Always conduct thorough keyword research to uncover new blog article opportunities. Utilise reliable tools like Moz, Google Keyword Planner, Ahrefs, and SEMrush, which offer free accounts to assist you. Alternatively, entrust this critical task to a reputable SEO agency (wink like us wink) to ensure meticulous execution.
How To Optimise Your Blog For SEO
To fully harness the SEO advantages of your published blog articles, and increase their chances of getting noticed by search engines (and your potential customers), it's important that each article is properly optimised. This entails implementing a range of on-page optimisation techniques that should be followed EVERY 👏 DARN 👏 TIME 👏.
Your Blog SEO Optimisation Checklist
Supercharge your keyword research to uncover the ultimate keyword/s that align with your goals.
Craft captivating titles for your articles that entice readers to click and dive into your content.
Create outlines that are SEO-friendly, incorporating proper heading and paragraph structure.
Infuse keywords throughout your content in a natural and seamless manner (no keyword stuffing, please!).
Leave no stone unturned—ensure your blog post covers the topic from start to finish, delivering unmatched value.
Optimise your images and videos for maximum SEO impact. Keep file sizes small, use descriptive alt tags and appropriate naming conventions, and watch the magic unfold.
Connect the dots within your content by linking to other relevant and related blog posts or website pages. Use anchor text that includes keywords targeting those pages.
Build a strong internal linking strategy by linking from other blog articles and pages on your website to your new article. Anchor text with targeted keywords will do wonders.
Level up your title tags and meta descriptions to boost rankings and attract clicks in the SERPs.
Engage your readers with relevant call-to-actions in every article. Whether it's to explore your services, make a purchase, or inquire further, provide them with choices to keep the interaction going.
Keep a watchful eye on metrics. Regularly review and analyze keyword value, traffic quantity, and traffic quality to stay on top of your game.
SEO Benefit #2 – Supercharges Your Backlink Arsenal
You know that the more quality backlinks you get to your website, the better (and if you don't, we'll explain why in just a moment). But first, let's face the harsh reality: convincing others to reference your main pages ain't a piece of cake. That's why blogging is so great because it helps captivating, enlightening content become an irresistible magnet for backlinks from all corners of the web.
How Quality Links Reign Over SEO Performance
Backlinks are the warriors' weapons, the ultimate endorsements that can have a massive impact on your SEO performance. When utilised correctly, they wield a mighty influence, driving swarms of loyal users to your realm, while impressing the search engine gods with your authourity.
Search engines view good backlinks as indicators of your website's credibility and relevance, considering them as votes of confidence from authoritative websites. It's an analytical consideration, not a human-centered one. The more high-quality backlinks you earn, the more search engines recognise your website's value, leading to higher rankings in their organic search algorithm.
Internet users view backlinks as a sign of trust in your brand and business services, especially if they appear on a site they have already built a good relationship with. Imagine this: A long-lost friend, with a reputation for wisdom and impeccable taste, stands up and shouts, "Hey, listen! This brand is the real deal!" You'd listen, right? Well, multiply that trust by millions of eager internet explorers seeking knowledge in your domain. That's the true potential of backlinks, my friends.
But hold on! It's not a numbers game. Quality reigns supreme in this battle. Be wary of backlinks from the dark alleys of the internet, from those sketchy, low-quality sites that spell danger. They can tarnish your reputation and even banish you from the search engine realm forever.
Remember, my fellow SEO fighters, it's all about the quality of your backlinks, not the sheer quantity. Earn the respect and trust of authoritative allies, and watch your kingdom rise in the search engine ranks.
SEO Benefit #3 – Grows Your Authority
Blogging isn't just about publishing information for the sake of it; it's your golden ticket to asserting yourself as the expert in what you do. By providing valuable, engaging blog articles that your audience loves, you will climb the ranks of obscurity and rise above your competitors as the leading voice of authority in your industry.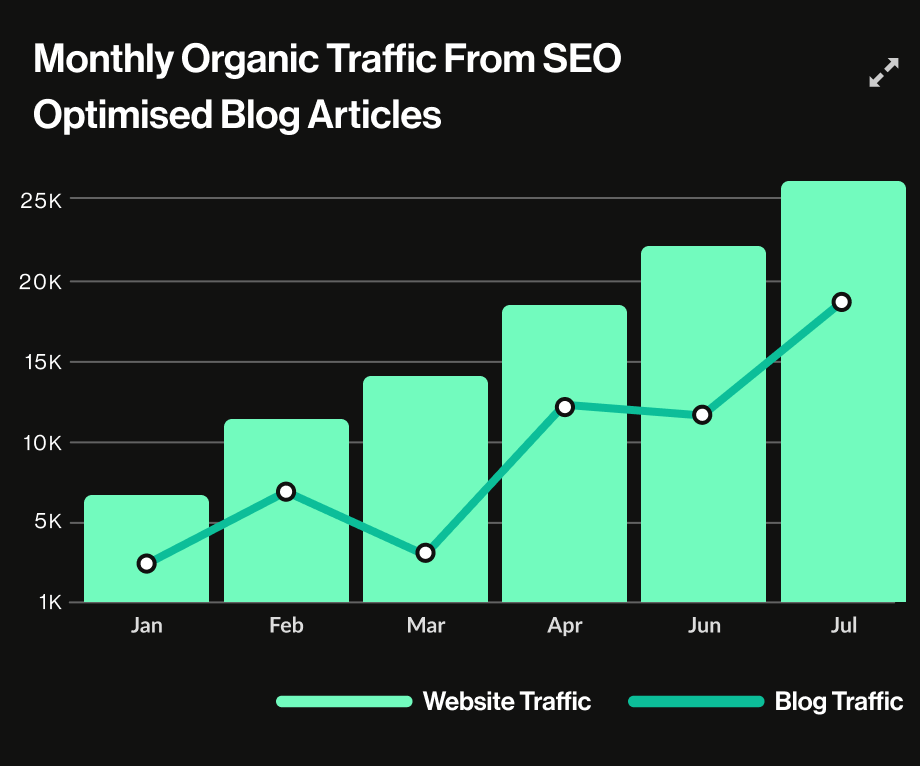 By consistently publishing insightful, creative, and well-researched blog content, you can demonstrate your industry knowledge and expertise with an influential brand voice. Each article becomes a pillar of wisdom, showcasing your expertise and captivating your audience.
To help achieve this, make sure you are publishing blog articles in a variety of topics and formats. Examples of these articles might include:
in-depth analysis and insights
helpful guides and tutorials
interviews with prominent figures in your industry
case studies
comparison articles (X vs Y)
and so much more!
Be sure to utilise a mix of ever-green content (e.g. the content will still be as relevant in several years' time as it is now), and trending topics as both have their place in blogging strategies.
With a captivating collection of vibrant and interesting articles, you have the power to forge long-lasting connections with your readers, ensuring their unwavering loyalty. These engaging pieces will leave them yearning for more, eagerly returning to your blog time and time again.
PRO TIP: To expand the reach of your blog articles, share them on your personal social media platforms and in any email databases you have – this will help ten-fold in establishing your authority in that topic.
SEO Benefit #4 – Improves User Experience & Engagement
If you want Google to take notice and shower you with search engine glory, you need to keep your website visitors hooked. If they come and go in a flash, say goodbye to visibility. And if your site has just a handful of pages, don't expect visitors to stick around—they'll run out of things to explore faster than a squirrel on caffeine. But fear not, for blogging is here to save the day!
Captivate Visitors with Epic Content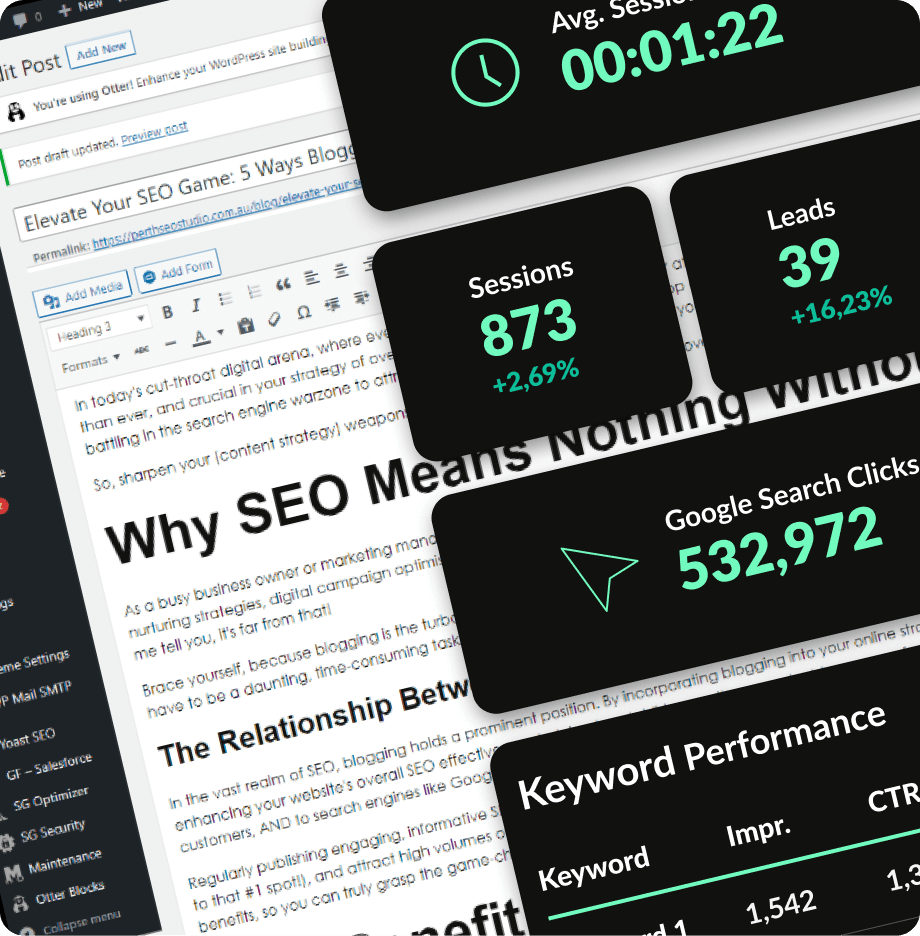 Blogging enhances a user's experience and encourages visitors to stay on your website to discover more pages and content that can nurture them into enquiring, or making a sale. It's all about delivering valuable content that blows their minds and keeps them coming back for more.
Each blog post you unleash upon the digital realm should be exploding with insightful information, practical guides and tips, or entertaining stories that resonate with your target audience. When your blog content becomes a treasure trove of valuable insights and practical advice, it becomes more than just words on a screen. It becomes a tool to establish a genuine connection with your readers, earning their trust, and igniting their curiousity to dive deeper into the depths of your website.
These engaged users are the holy grail. They'll return faithfully, spread the word about your content, and, most importantly, transform into paying customers.
Use Links To Your Advantage
Internal linking (linking to other pages on your website) is a game-changer when it comes to levelling up the user experience. When you sprinkle those relevant internal links throughout your blog content, you create a smooth path for users to explore related topics and dive deeper into your website. It's like a treasure map leading them to valuable content and boosting the rankings of your other pages in the search engine arena. Talk about a double win!
Encourage Social Sharing
Links from social media platforms to your website are vital signals that search engines consider when evaluating the quality and relevance of your content. When you craft those irresistible blog articles, packed to the brim with invaluable information, gripping narratives, and shareability that's off the charts, you unlock a powerful force—the ability to make your content go viral on social media.
By igniting their interest and stirring their emotions, you empower them to become enthusiastic advocates, eager to share your posts with their own networks. Social shares are like digital megaphones, amplifying your online reach and driving hoards of traffic to your site. It's a gateway to new audiences who might never have discovered your greatness otherwise.
SEO Benefit #5 – Google Bots Can't Keep Away
Search engines, and more specifically their crawlers, like Google bots, LOVE fresh, relevant content, and that's exactly what a successful blogging strategy can deliver. Crafting compelling blog content is a gateway to driving high volumes of organic traffic to your website.
But exactly how does frequent blogging contribute to SEO success? Well, let me enlighten you.
Firstly, it allows you to target your audience with both your broad and long-tail keywords. It's like targeting multiple search queries at once, increasing your chances of hitting the bullseye and claiming a top spot in the search rankings.
Secondly, regularly blogging signals to search engines that your site is alive and kicking, a fresh hub of activity, constantly evolving and delivering fresh (epic) content. The result? Those sneaky bots can't resist the temptation to crawl and index your pages with lightning speed.
Thirdly, frequent blogging encourages visitors to return to your website, knowing that they can expect fresh and valuable content on a regular basis. These savvy visitors, having tasted the sweet nectar of your content, will keep coming back for more. They engage with your content, sharing it far and wide, spreading the word like wildfire.
Take Advantage Of The SEO Benefits Of Blogging
The time has now come for you to seize the SEO benefits that await you through the art of blogging. But beware, this path is not for the faint of heart. It demands expertise and unwavering commitment. Fear not, for we stand ready to join forces with you, guiding you through the treacherous terrain of keyword research and captivating content creation.
If you find yourself lost in the wilderness of SEO, unsure of where to begin, worry not. Our battle-hardened experts are here to fight by your side, equipping you with the knowledge and strategies to conquer the search engine rankings. Together, we shall ascend to the pinnacle of search engine results, leaving competitors trembling in our wake.
Don't let your business remain hidden in the shadows. Take action now and claim your rightful place at the top. Join forces with us, and together we shall forge a path of SEO dominance that will leave a lasting mark on the digital landscape. Reach out to us today and let the battle for SEO supremacy begin!
You might also be interested in…