In your battle to unlock the full potential of your next search engine campaign, you've most likely encountered these two marketing strategies: Search Engine Optimisation (SEO) and Search Engine Marketing (SEM). These two marketing powerhouses have sparked endless debates over which one reigns supreme, and which one yields the greatest results.
But here's the inside scoop: don't think of this dynamic duo as rivals, but instead as partners fighting on the same side. It's time to shatter the myth and embrace the undeniable synergy that occurs when SEO and SEM work together, blasting your online marketing strategy to new heights that even Elon Musk would be proud of.
In this article deep-dive, we delve into the heart of SEO and SEM, uncovering their essence and exploring how their harmonious collaboration can catapult your next marketing campaign to new levels of success. Prepare to discover the secrets of their combined value and why this dynamic duo should be the cornerstone of your strategy. We'll even reveal real-world examples showcasing the integration of SEO and SEM.
What is SEO and how does it work?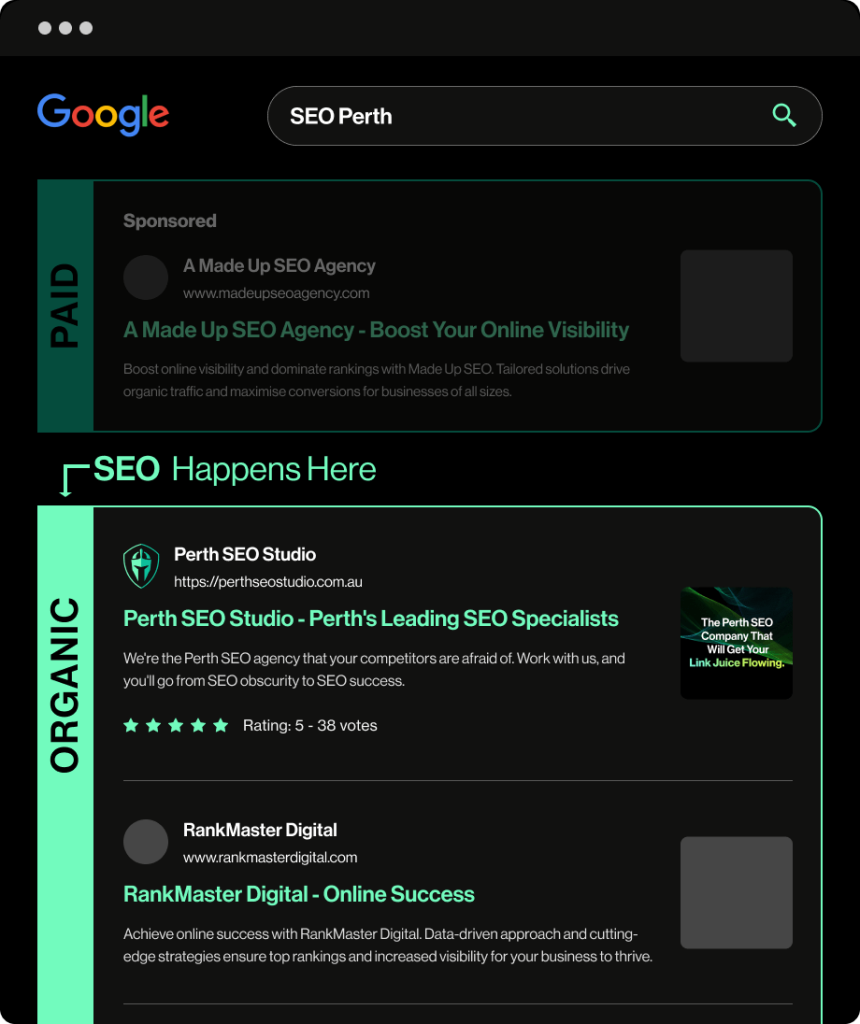 SEO or Search Engine Optimisation is a technical art that involves strategically crafting your website's content and structure to secure a prime position at the top of search engine rankings. When your website gains more authority, it naturally climbs the ranks on search engines like Google, Yahoo, or Bing. It becomes a more attractive prospect to draw the attention of internet users intent on finding answers to their search queries. This type of website traffic is known in the online marketing sphere as 'organic traffic'. Visitors who have arrived on your website after clicking a link to it from a Search Engine Results Page (SERPs).
Constructing a robust SEO strategy begins with identifying the precise keywords or keyword phrases that resonate with your potential customers. Let's take the example of a commercial real estate agency in Perth. They aim not only to dominate search results for keywords like "Commercial Property For Sale" or 'Commercial Property To Rent' but also to target internet traffic for specific services they offer and localised suburbs they operate in, such as Commercial Property Management", "Commercial Property Appraisal" or "Commercial Property To Rent In Victoria Park."
By strategically optimising your website to rank prominently for these targeted keywords and phrases, a Perth business can position themselves as the top choice when internet browsers are searching for the very services or locations they provide. The value of SEO lies in its ability to drive organic traffic without the need to invest in more costly pay-per-click (PPC) advertising – where the cost to bid on those same keywords would come with a heavy price tag! Typically, the only costs would be for SEO agencies to implement the work required for a well optimised website.
This makes SEO a cost-effective long-term strategy for businesses at any stage, from startups to established enterprises seeking continuous growth.
The 3 key components of SEO you need to know about
1. On-Page SEO
On-Page SEO is like the secret ingredient that can turn your web pages and content into a delicious feast for search engines to enjoy. Google's primary mission is to provide inquisitive users with relevant and valuable website results that match their search queries. As the owner of your business website, your mission is to effectively communicate to Google and the other search engine crawlers that your page is the ultimate destination for those search queries.
Successfully understanding this relationship means you can optimise your website pages and content to maximise your chances for your audience to discover you.
Follow this checklist of on-page optimisations and you'll have search engines falling in love with your content faster than the contestants on Married At First Sight.
On-Page SEO Checklist
Implement keyword-focused H1 and H2 headings.
Craft SEO-friendly URLs.
Generate content rich in targeted keywords.
Consistently publish fresh and engaging content.
Optimise images by incorporating keywords in their filenames and alt descriptions.
Add internal links to connect to valuable content within your website.
Utilise external links to authoritative websites.
Integrate social media platforms with your digital properties.
Complete all meta-data fields.
Implement a schema markup for enhanced search engine understanding.
Design a clear and compelling call to action.
2. Off-Page SEO
Off-page SEO is the strategic approach of driving traffic from external websites to your own. It encompasses various strategies aimed at bolstering your online visibility beyond your website's boundaries. Building relevant links from reputable sources, increasing social media presence, and engaging in guest-blogging are key tactics you can use to cultivate off-page visibility and attract a steady flow of new visitors to your site. To do this, look for relevant local directories and industry websites where you can create profiles that can not only help your SEO, but also has the potential to get you extra leads! An example is this profile we've created where you can review Perth SEO Studio on DesignRush.
Follow these elements of a solid off-page SEO strategy to help communicate the value of your website to search engine crawlers:
Off-Page SEO Techniques
Develop a quality backlink profile to enhance your website's authority.
Get authoritative sites to link to your site for added credibility.
Craft a robust Google Business listing to improve local search visibility.
Engage in guest posting to expand your presence on other reputable websites.
Earn quality reviews, preferably on Google, Facebook, and reputable review sites, to build trust and attract more customers. *
3. Technical SEO
When delving into the realm of technical SEO, we're referring to the meticulous process of ensuring seamless crawling and indexing of all your website's pages by search engines. This encompasses optimising page loading speed and configuring your site to maximise its visibility to your customers by facilitating smooth navigation and indexing by search engine bots.
Technical SEO Tactics
Establish clear page definitions and hierarchies. Remember, search engines utilise bots to scan websites and categorise them for SERPs. The cleaner and better organised your pages are, the easier it is for search engines to index them and rank them accurately.
Ensure your website is mobile-friendly. With a heavily weighted number of users making search equerries on mobile devices, it's critical that you offer a responsive website experience for your mobile audience.
Prioritise page speed and performance. Make sure you optimise your website's loading time to avoid potential clients becoming frustrated with slow performance. A fast and responsive site increases the chance of a positive user experience, keeping visitors more engaged and more likely to convert.
What is SEM and how does it work?
SEM, which stands for Search Engine Marketing, goes beyond SEO, and embraces a more comprehensive approach to online marketing that has the potential to quickly deliver large volumes of search traffic to your website, but in most cases, this will be at a much higher cost. Although the term search engine marketing does include SEO, for the most part when marketers are discussing SEM, they are primarily referring to paid search, digital advertising, and PPC strategies – Google Ads is a great example of this.
A well-constructed paid search campaign holds the potential to catapult your website's traffic and position you ahead of your competitors and benefit from a highly engaged audience.
The 4 key components of SEM you need to know about.
1. Paid Search Advertising
This involves creating and managing paid search campaigns through platforms like Google Ads or Microsoft Advertising. Advertisers bid on keywords relevant to their products or services, and their ads are displayed prominently in search engine results pages (SERPs). When done right, this can be a highly successful way to generate leads for a business as you can very tightly control who sees your ads.
2. Bid Management Strategies
SEM requires effective bid management to optimise ad placements and budgets. Advertisers need to adjust bids based on keyword competitiveness, target audience, and campaign objectives to achieve the desired ROI.
3. Ad Copywriting
It's vital to master the art of persuasive ad copywriting to create impactful messages that grab attention, highlight your unique value proposition, and entice users to click through. High-converting ads crafted with compelling headlines, using persuasive language, and highlighting key benefits are crucial in getting the highest ROI.
4. Landing Page Optimisation
Landing pages are dedicated web pages designed to convert visitors into customers. Optimising landing pages involves crafting compelling content, clear calls-to-action, and user-friendly designs to maximise conversions from SEM traffic.
How can SEO and SEM fight together on the same team?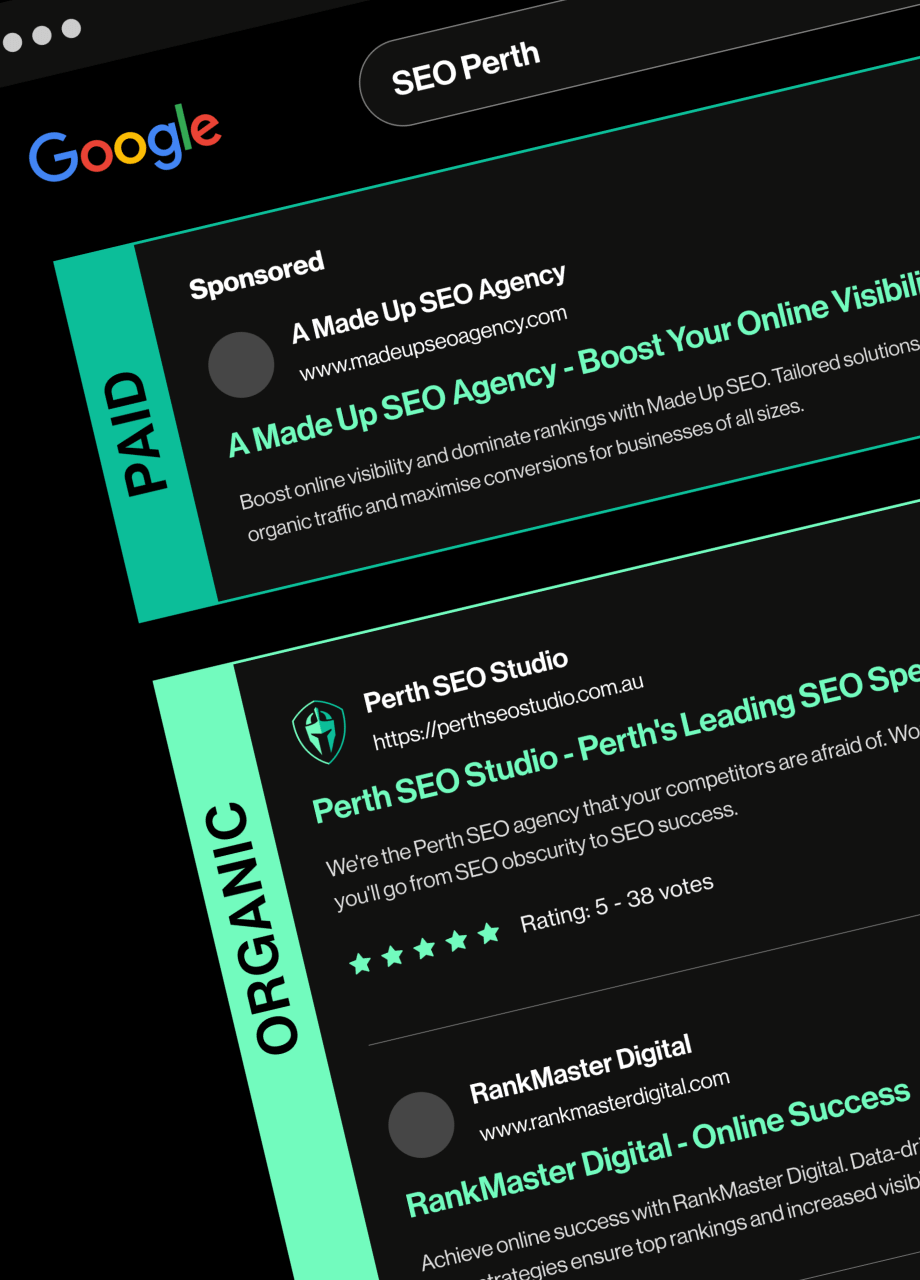 SEO and SEM don't have to be separate strategies that you must choose between; they are two powerful weapons in your arsenal that can thrive together. Instead of viewing them as opposing forces, it's essential to recognise their synergy in driving visibility, traffic, and conversions in all areas of search engine marketing. It's about knowing how and when to wield them together to fight for your next campaign.
The data insights obtained from your SEM activities can be invaluable in supporting your SEO strategy. By leveraging these insights, you can refine and improve your keyword targeting and align your website's content with the interests and behaviours of your target audience.
Additionally, the collaboration between SEO and SEM allows for the implementation of strategic remarketing campaigns. This enables you to target potential customers who have interacted with your site through your SEO efforts but have not yet converted, providing them with tailored messages and incentives to re-engage and complete their desired actions.
When these tactics work harmoniously, rather than in isolation, they have the potential to establish your dominance in the search engine results pages, driving greater visibility and attracting a source of qualified leads.
The undeniable synergies between SEO and SEM
The synergies between SEO (Search Engine Optimisation) and SEM (Search Engine Marketing) are undeniable as they work hand in hand to fight for better visibility, reach, and effectiveness of your next search engine campaign. Here are some of the most valuable synergies that arise when SEO and SEM converge.
Enhanced Keyword Insights: SEM campaigns provide valuable data and insights into the keywords that drive traffic and conversions. These insights can be leveraged to refine your SEO strategy, optimising your website's content and structure to target high-performing keywords and improve organic search rankings.
Expanded Visibility on Search Engine Results Pages (SERPs): By combining SEO and SEM tactics, you can dominate the SERPs by appearing in both organic search results (SEO) and paid search listings (SEM). This increases your overall visibility, capturing the attention of a broader audience and boosting your chances of attracting clicks and conversions.
Improved ad targeting through SEO-driven audience research: SEO efforts involve conducting thorough research on your target audience, their search behaviours, preferences, and demographics. This valuable audience research can be utilised in your SEM campaigns to refine ad targeting and reach the most relevant audience. By leveraging SEO-driven audience insights, you can create highly targeted ads that resonate with your audience, increasing the chances of capturing their attention, driving engagement, and achieving better ad performance. This synergy between SEO and SEM allows for more precise ad targeting, resulting in improved campaign effectiveness and ROI.
Data-Driven Optimisation: Both SEO and SEM generate valuable data and insights that can be used to continuously optimise your marketing strategies. By analysing metrics, such as click-through rates, conversion rates, and keyword performance, you can refine your campaigns, improve targeting, and allocate resources effectively, maximising the return on investment for both SEO and SEM initiatives.
Examples of these two strategies fighting together in the real-world
Amazon dominates the search results
As a global e-commerce powerhouse, Amazon exemplifies the strategic integration of SEO and SEM to establish search engine dominance. They adjust their product listings with relevant keywords (SEO) and invest in paid search ads (SEM) to ensure their products appear prominently in search results. This integration helps them capture a wider audience and drive more conversions to specific product listings.
Coca-Cola builds their online visibility
Coca-Cola combines SEO and SEM to maintain a strong online presence and engage with their audience. They optimise their website and content (SEO) to rank well for branded and non-branded keywords, while also running paid search ads (SEM) to reinforce their messaging and increase brand awareness. This integration helps Coca-Cola stay visible across search engines and effectively reach their target audience.
Airbnb delivers brand awareness
Airbnb utilises SEO to enhance their property listings, ensuring they rank well in search engine results for relevant keywords and queries. They also use SEM to run targeted ad campaigns to increase brand visibility and attract new hosts and guests. By integrating SEO and SEM, Airbnb strengthens its online presence and drives more targeted traffic to its platform.
HubSpot optimises for conversions
HubSpot, a leading marketing software provider, employs a comprehensive strategy that combines SEO and SEM to attract and convert customers. They optimise their website and blog content (SEO) to rank for relevant keywords and also run targeted PPC campaigns (SEM) to capture high-intent search traffic. This integration allows HubSpot to drive organic and paid traffic, resulting in increased brand visibility and lead generation.
Trust Perth SEO Studio with your next SEO and SEM Campaign
For your next digital marketing campaign don't think of SEO and SEM as opposing forces but rather powerful allies fighting together for your online success. It's not about choosing one strategy over the other, but instead taking advantage of their undeniable synergy to drive greater visibility, targeted traffic, and optimised conversions from search engines.
The data obtained from your SEM activities is a gold mine of valuable insights. And if you've got the experience and the right tools to harvest it successfully, you can create a rich SEO strategy full of value. When we leverage these valuable insights, we can refine your keyword targeting, optimise your website's content and align it with the interests and behaviours of your target audience.
This knowledge also provides us with the ability to create a killer remarketing campaign to re-engage potential customers who have interacted with your site through SEO efforts but have not yet converted. This only works together successfully when you have both these two powerhouses working on your side.
At Perth SEO Studio we firmly believe behind any effective marketing campaign is an SEO audit. We offer professional SEO audits that assess your current online presence to determine the perfect blend of SEO and SEM for your unique business goals. Take the first step towards building a robust online search presence by contacting us today. Let us guide you on the path to increased visibility, higher traffic, and greater conversions through the power of SEO and SEM working in together.
Ready to unlock the full potential of your online marketing? Contact Perth SEO Studio now for a comprehensive SEO audit and discover how the integration of SEO and SEM can propel your business to new heights.
You might also be interested in…